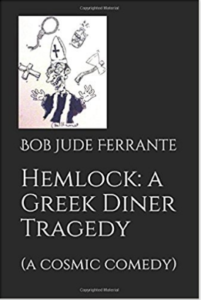 As humanity rockets toward Millennium, strange red-garbed men known only as Cardinals complete plans for universal domination by capturing Socrates, Greek philosopher and David Chagall, Bronx diner owner. Can our intrepid men free themselves from the clutches of the mother of all conspiracies…and save the cosmos? HEMLOCK is a black, black, black comic fantasythat skewers end of millennium paranoia, western philosophy, conspiracy theories, time travel, and Catholicism.
Details
cast: 7; (1 F, 4 M, 2 M/F)
set: Realistic diner
length: 120 min.
Productions & Publications
Regional: Summer 1997 by Extra Virgin PC (Dallas TX)
Staged reading: Oct 1998 at 78th Street Theatre Lab (NYC)
Published:
Reviews:
Dallas Observer
Award: Dallas Observer