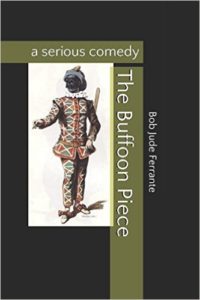 The compromises of art, compromising the artists.
Italy, 1937. For 500 years, kings and tyrants came and went but life's unchanged in tiny Volpe Nero. Alessandro and his father, of Italy's last Commedia Dell'Arte troupe, scrape a meager existence from tradition's crumbs, That's all about to change. As Mussolini and Hitler forge their tragic alliance, two fugitives from a Fascist prison camp arrive seeking refuge — with Blackshirts and a vengeful clown in hot pursuit. Father and son clash: do what's safe, or do what's right?
Details
cast: 10 (3 F, 7 M)
set: Commedia Dell'Arte stage
length: 130 min.
Productions & Publications
Staged Reading: April 1999 at 78th St. Theatre Lab (NYC)
Published: