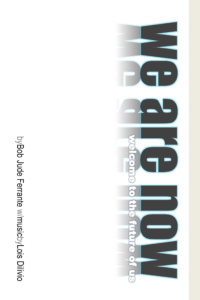 The site-specific comedy starts at the front door & pulls you in on a WILD journey. From the moment you enter, drawn in by the music, questioned by the interlocutors, you're challenged by this Looney Toons nightmare helium infused romp of a future; carried by the live music & immersed in propulsive, hilarious first-hand experiences all around you. Engage your friends in a serious argument about the future – or bask in the UTTER DELIGHT OF IT ALL.
Hear the cast album on (iTunes | Amazon music)
Details
cast: 8 (4F, 4M)
set: site-specific or multi-performance
length: 120 min.
Productions & Press
Off-Broadway: Sanctuary: Playwrights Theatre
Press:
Works by Women